hair braiding Sydney
Hair Braiding in Sydney is no More a Task Rather it is Fun at Salon De African Pride
Your Hair Deserve Braids
Braiding is an ancient style of art, people have been doing with their hair for long times. Especially African people love to tie up their hair in the form of most beautifully crafted braids that not only look elegant and give you a cool appearance but also save you from hot summers when the sun is up and you cannot take your open hair outside. But making perfect braids without damaging your hair is not everyone's cup of tea it requires skills equipped with fast services that give a perfect finish to your hairstyle as well. Salon De African Pride has many hair artists that do hair braiding in Sydney in minimum time and give maximum volume to your hairstyle.
Why Salon De African Pride Should Be Your Choice
We are sure you never want to try on your hair. Because getting dream hair is not easy and when once this dream comes true no risk is bearable so when you decide to have dazzling hairstyling for your hair takeout some time to find out who is able to set your hair in a best way. Because in the market you will get a number of hair artists but making a smart choice will save you from afterward hair damage. Salon De African Pride has a vast experience of hair styling cutting, fixing extensions and wigs we never disappoint our customers and covering a wide range of hair services we serve all around Australia.
Less Time and Maximum Satisfaction
No matter you need hair braids for daily routine and or want to enjoy sports in your high school or need style for any other occasion our effectual and welcoming hairstylists love it to the job for your hairs not only styling we also focus the number of braids and width of each braid that suits your facial features and overall face cut.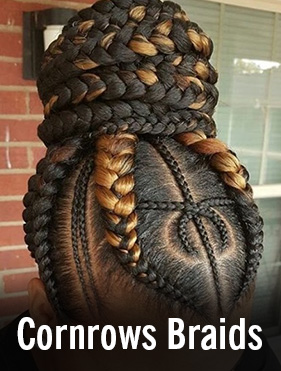 Competitive Price and Supreme Beauty
Our services are affordable. Also, we are upfront and don't plead for extra service charges in the end. We are confident that from start to end our rates are affordable for you. Moreover, it is all about fun for our nice and friendly hair artists to make astonishing hair ponytails with expertise guaranteed. Browse our gallery to see how beautifully we do hair braiding in Sydney for you!
Give us a Line to Spark a Shine into your Hair
No matter the length and color of hair we extend your hair in a natural and beautiful way you never expect. So call us at 02 9517 1251 or feel free to ask any query about our services by emailing at: sales@salondeafricanpride.com.au. Have a happy hair day!
Are you on the outlook of best hair extensions in Sydney, try Salon De African Pride and never regret. For more details call us
02 9517 1251